Punto Banco ( Baccarat )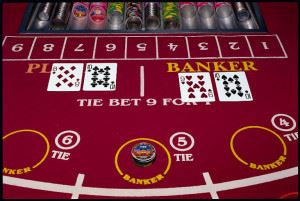 Punto Banco, known as Baccarat in the online gambling industry, is a card comparing game that has been played for ages in private clubs by groups of wealthy people. It wasn't all that long ago, when this game made its appearance in an online casino environment. Having that said, it has already managed to become hugely popular and after having a brief chat with a couple of casino employees, they have confirmed that the game is played with a similar frequency to another well known one – BlackJack.
As you'll learn later on, the rules of Punto Banco are quite complicated, but actually the game is incredibly easy to play. How can that be true? Well, dealers do all the work when it comes to complexity and players are only required to make one of the three bets possible and root for their pick!
How To Play?
The table layout of Punto Banco is shaped as half of a circle and features three betting fields – the banker, the player and a tie. These are exactly the three betting options you will have in Baccarat.
The Banker – predict that the banker will get a hand of higher value dealt.
The Player – predict that the player will get a hand of higher value dealt.
A Tie – both sides will get a hand of equal value dealt.
When playing Punto Banco, you do not hope for the player to reach a higher point score. These three bet types are individual and you can bet on any of them.
Once you have managed to place a wager, you can hit the deal button and gameplay starts right away. Each side, player and banker, are dealt two cards each. This is where the complex ruling comes into place and determination of whether any side gets an extra card dealt occurs.
Maximum point score in Punto Banco is 9 points, which is also considered as a natural hand. The most cards that can be dealt to any of the side is 3.
If neither side has a natural hand of 9 points or a hand worth 8 points dealt, Baccarat drawing rules are applied.
Player draws a third card when the value of his hand is between 0 and 5 and stands when its either 6 or 7.
Banker follows a more complicated set of rules, if player drew a third card. If he did not, rules are the same as for the player – drawing between 0 and 5 and standing on either 6 or 7.
So if player did draw a third card, that card is also taken into a determination for ruling whether Banker will draw another card himself. Below is a table displaying the players third card drawn and point score with which banker draws and stands.
 Play Baccarat At These Online Casinos
You Get Exclusive 50 FREE SPINS Here

 100% up to $1000

T&C Apply 18+

Welcome Package

150% up to $1000 + 10 Free Spins

T&C Apply 18+
Card Drawn Bankers Action
Deuce or a Three Draws with 0 to 4, stands with 5 to 7
Four or a Five Draws with 0 to 5, stands with 6 and 7
Six or a Seven Draws with 0 to 6, stands with 7
Eight Draws with 0 to 2, stands with 3 to 7
An Ace, Ten or a Face Card Draws with 0 to 3, stands with 4 to 7
Bets & Payouts
Unlike other games like BlackJack, you are not limited to betting on the player to reach a higher hand score – you are free to wager on the banker to do so or bet the tie. Here's what you can bet on and earn, if you are correct.
Banker To Win – even money odds with a 5% commision.
Player To Win – even money odds.
Tie – 8 to 1
Playing Tips
The game of Baccarat is a fully automated one – there's nothing you can do to change the pace of it or the outcome of any particular hand. This means that there's also no optimal strategy other than betting on the bet type that features smallest house edge of all – the banker.
You can feel free to bet on the player to win, but definitely try to avoid the tie bet. Even though the payout rate for the bet is quite appealing, it actually features a huge house edge (over 10%), compared to both other bets that ar approximately 1%.
 Best Online Casinos To Play Baccarat
Casino
Bonus
US
Review
Visit
EXCLUSIVE BONUS 50 FREE SPINS!

T&C Apply 18+

Review
Visit
Bonus - 100% up to $/€ 1600

T&C Apply 18+

Review
Visit
Bonus - 100% up to $1200

T&C Apply 18+

Review
Visit
100% Exclusive $100 Bonus

T&C Apply 18+

Review
Visit
Bonus - 50% up to $50

T&C Apply 18+

Review
Visit