Basics of Betting Sports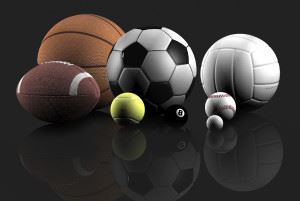 Sportsbetting has been a popular form of gambling for ages and almost as long as sports competitions were around. While land based betting shops and malls have been around for almost a hundred years now, online betting is a little bit "younger" and actually provides the convenience that land based shops will never be able to do.
You might already have an idea that betting on sports is predicting the outcome of a particular sports even like soccer, ice hockey or basketball. However, what you likely haven't realized is that there are a wide range of bet types that can be made by wagering on sports. You don't neccesarily have to bet on or predict the exact team that will win. There's a chance to wager on how many goals will be scored, who will score them and much more. Lets take it step by step, though.
The Odds
Odds are the foundation of betting sports – these show the potential payout that can be won, if your wager ends up being correct. There are a couple of types for these, depending on the region you live at they will differ by their format:
Europeans use decimal odds – for example if you wager $100 on a soccer game with odds of 2.00, you stand a chance of winning $200, thus making a $100 profit.
UK Bookmakers and bettors prefer fractional odds – decimal odds of 2.00 would translate to 1/1 where a $100 bet would pay out $100 on top for a total of $200.
Moneyline odds are favoured in USA and these are also easy to use. When positive, moneyline odds show the amount that could be won on a $100 wager. If negative, these odds show the amount that has to be wagered to win 100 betting units (usually $100).
 Bet On Sports At These Casinos
Bet Types
As said in the introduction, there's way more types of wagers that can be placed, rather than just picking which of the teams or players will win. Here's a good overview on the most popular bet types that are offered by most sportsbetting sites.
Straight Bets – while I did say that there is way more to betting sports rather than just wagers on a particular team to win the game. However, these kinds of bets are actually the most popular ones. Before each game, the sportsbook will set a line (also known as a spread), favouring one of the teams and setting the other as a favourite. This is done by an in-depth research from professionals working for the "bookies". When betting on a "straight bet", you can bet the either side to win or on a tie, depending on the particular sports game or type.
Proposition Bets – prediction a very specific outcome of the match. Rather than betting on who will win, you can bet on whether x amount of goals will be scored as well as who will score these. There's pretty much no limit in regards to this.
Parlay Bets – my friends call them "systems", but the official name of these are parlays. You can bet on several outcomes on up to 12 events and get some realy crazy odds along with sizable payouts. I know a player who wagered $50 on 50 outcomes and well over $50,000, so if you are a hunter of big payouts, this bet type might be exactly for you.
Progressive Parlays – same way as regular parlays, these are bets on multiple events, but feature reduced payouts odds. However, there's also a very big advantage for choosing these – usually you'll be allowed to lose a couple of bets and still qualify for a payout.
Live Betting
If you pride yourself for having a catchy eye and analysing skills, Live Betting (also known as in-play betting) might be exactly what you are looking for. This allows you to follow the game in real time, some bookies like Guts offer a live stream in HD mode, while making wagers on the possible outcome of that particular event. Live Betting is the way to go if you have the time to actually follow the event by watching it, as the odds constantly change and if you seem to think that one of the teams will make a big comeback (usually the losing one will feature high payout odds), then you got a shot at winning some big, fat payouts.
Mobile Betting
After mobile gambling industry took off and players started to express a large amount of interest in gambling on their mobile phones or tablet devices, sportsbetting sites implemented mobile betting. This allows you to place wagers by being anywhere in the world – even when watching the actual game live! I already know that this will be a huge hit in the industry without a doubt, so get into the action. Most phone and tablet devices are supported already and one of the best mobile betting sites is Guts, offering a lot of bet types, markets to bet on as well as great odds.