Sports Arcade Games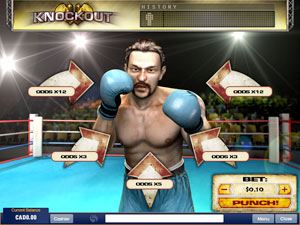 Arcade Games were popular when you were kid and I'm almost certain that you remember the "Sega" console that offered several games that would be kind of laughable nowadays. However back then they seemed amazing and could entertain you to the highest level. Well, online casinos have brought the old school experience back and offer a relatively wide range of these games for real money play. You can still get the entertainment of the simplicity these games feature while also having a chance to win some significant amounts of cash.
There are all kinds of arcade games that can be played for real money, but the ones we will take a look at right now are sports themed ones. Soccer, ice hockey, bowling, darts and what not – all of them are a part of the offerings casinos have nowadays.
How To Play?
While every particular game differs by its gameplay, all of them are incredibly easy to play and that's actually the main selling point of them in the first place. There's no strategy that complicates them or calculating any kinds of odds – you simply have to open one up and enjoy the experience it provides. All of that while gambling for real money and having a chance to win some of it, in some cases fairly significant amount.
However, for the purposes of this example we'll take a look at a specific game and how its played. I personally favor games that are developed by PlayTech so the one we'll kind of review here will be Penalty Shootout, which is a soccer themed arcade game.
To try it out, simply open the game at any of the casinos offering it, for example Guts, and wait up until it loads. Now you will be presented with a screen displaying the goal, goaltender and you as a player. First thing to do right away is pick how much you want to wager on the following kick – anything from $0.10 to $100 per kick is possible.
Once you've done with the wager size, final stunt is deciding in regards to the direction to kick the ball to. The directions differ between payout odds – harder shots offer better payout odds and these range between 3x and 12x. It's possible to claim a payout of up to $1,200 per shot, seeing as the maximum wager is $100 with payout odds being 12x.
Now you are all set for a couple of entertaining and thrilling seconds – pick your designed shot and click on the "kick" button that will lead to player kicking the ball. If you score, a payout will be awarded while if you miss, you'll lose the initial wager. It's exactly that simple!
Games Offered
The total number of games offered is probably well into the hundreds, but for now we'll take a look at a handful of them. These are developed by industry leading companies like PlayTech, Net Entertainment and MicroGaming. To get a more in-depth idea about a particular game, simply click on its title and you'll be redirected to a page tailored towards it.
PlayTech Arcade Games
Penalty Shootout
Virtual Football
Champs League
Shoot n' Score
Darts
MicroGaming Arcade Games
Super Rally
Touchdown
Premier Racing
Roll Up
Greyhounds Park
Best Casinos
Once you've managed to find a game you like, you will also need to join a casino offering that particular game. We've listed a couple of them for every game reviewed, but if you are looking for generally great gambling sites offering loads of them along with games of pretty much any type, you might want to take a look at the brands below.
Mobile Games
If you're looking to have some fun on the go by gambling on mobile devices like your phone or a tablet, you'll have a chance to do so, given that you choose a casino offering games of this type. Your best bet are gambling sites powered by either MicroGaming or PlayTech, as both of these software providers have taken development of mobile environment very seriously. Find a toplist of mobile ones offering sports arcade games below.
Play Sports Arcade Games At These Casinos