Gambling With PaySafeCard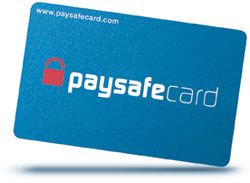 The PaySafeCard is an electronically based system for making payments, mainly for online shopping. It is a pre-pay card. When making payments through PaySafeCard, one need not disclose details of his/her bank or credit card. European casinos widely patronize this card as a fund payment or withdrawal option that is available in thirty countries now. Users of PaySafeCard need to buy a PIN code that comes printed on a card that you then enter at the web-shops. You can use the card many times or buy a number of codes.
For these reasons, it is the first choice among many gamblers, and has become among the most favored ways of making or receiving online payments in Europe. You can transfer funds from your bank account to your PaySafeCard. It is simply a prepaid card you can primarily use for transacting money at casinos, especially in Europe. Most German Poker players particularly favor this card since they consider it as a much more secure mode for making payments without disclosing their bank or credit card details.
History
Founded in 2000, paysafecard.com Wertkarten AG has its headquarters in the beautiful city of Vienna in Austria. It has its subsidiaries in Argentina, Germany, Gibraltar, Great Britain, Netherlands, Switzerland and the USA.
In 2002, you could have PaySafeCards in physical form as well as eVouchers. Its online sales commenced in 2004, and in 2006, it received EU funding (eTEN) to facilitate its worldwide expansion. In 2008, the British Financial Services Authority (FSA) awarded an e-money license to Prepaid Services Company Ltd, a subsidiary of PaySafeCard, thus allowing it to issue e-money throughout Europe.
In 2009, PaySafeCard received a vote as the "Best Prepaid Company outside USA" and thereafter, as "Leading Prepaid Organization" by the Prepaid Awards in February 2013.
Skrill acquires Paysafecard 2012
With Skrill (Moneybookers), reputed online payment providers acquiring paysafecard.com Werkerten, an online shopping prepaid voucher provider from Austria, its reputation in the world market has skyrocketed. Another reason for this is that Investcorp, one of the largest European players in this field holds a majority stake of Skrill.
Casino Account Deposit
Just download the software of the casino of your choice and create a casino account. Next, visit the casino cashier, and opt for PaySafeCard as your payment option. Now, you can readily make a deposit and start playing your pet games for real cash.
Play with PaySafeCard at These Casinos
Welcome Package

150% up to $1000 + 10 Free Spins

Welcome Package

100% up to $500
Deposit Limits
You may use up to ten PaySafeCards for processing one payment and spend no more than 1000 EURO online. You may use the card for making payment in foreign currencies. The money you spend automatically changes to the currency of the original website from which you bought your cards.
Paysafecard Supported Currencies
The card supports these currencies: GBP, CHF, EUR, CZK, SKK, PLN, RON, DKK, NOK and SEK
Options for Withdrawal
You cannot use PaySafeCard for withdrawing money because it is a cash card. When you win money at an online casino, you need to follow the withdrawal option facility as provided by the casino and transfer funds to your account with the bank.
Deposit Fees
This card does not charge its users for buying goods online or making deposits in poker rooms. The players need only to pay the fee for administration. The fee is payable three years after your ownership of your primary PaySafeCard.
Paysafecard Security
Many people are happy using this card for the reason that they do not have to part with any personal information that puts their identity at risk of Internet malpractices. The users just enter the confidential code of 16 digits in any online gambling website that instantly sets in motion the process of transfer of funds with the greatest level of robotically assured secrecy. Additionally, for your safety, the card also puts a cap on the amount to prevent loss by chance or by intent.
Beware
Today, fraudsters have abounded the Internet, forever devising ways to rip off the customers. Some of them create a website that resembles the original, and when the unsuspecting users enter their data, especially the 16-digit pin-code, they use a technique called phishing to steal the data for nefarious use. Sometimes, they also divert the incoming payments from the gambling sites by linking it to similarly concocted fraudulent sites during the checkout period to avoid immediate detection.
Upgraded App for Android Phones
In keeping with its continuous development program, Paysafecard that is a preferred payment option in Europe has come out with its innovative version of a free card that is compatible with the iOS and the Android. This comes replete with several useful features and services, offering an easier and more secure option when using the PIN code, without restrictions with regard to time and place. Users of Android devices, iPads and iPhones can use the new card features free.
My Paysafecard
The launch of the "my paysafecard" in 21 countries, has taken the markets by storm, especially its offer of more options for gambling customers and others, to play online using a unique username and password. The exclusiveness of the "my paysafecard" lies in the fact that the card is not linked to a bank account. You can top it up using paysafecard PINS, and the same time, you are privy to a bevy of information including transaction history and your current account balance.
Paysafecard Enters USA
By virtue of its undisputed advantages, most of the world's leading companies and online sites have already adopted paysafecard as their preferred option for deposits and withdrawals. The company's expansion, backed by safe and secure payments continues to enhance its popularity in fast expanding markets like the US, where the big gambling houses now recommend this payment option to all their customers.
With this tactical acquisition, Skrill has hit two birds with one stone by blending its irresistible combination of prepaid solutions with its digital wallet service and putting  its wide reach of 31 countries to best use.
Paysafecard Pros and Cons
Pros
Convenient availability in internet cafes, gas stations, the local stores and the like (if service available in the country)
Relative ease of use (scratch card)
Secure option with its own secure server
Cons
Not available in all countries
More restricted to the UK, Europe and Austria
Their use restricted to casino and lottery sites, bingo, games, music downloads telecommunication.
Some Major Casinos that Accept PaySafeCard
Some of the casinos that use PaySafeCard are Inter Casino, one of the oldest existing online casinos with an excellent customer-support service. Another casino is the Betway Casino, which offers amazing promotions and bonuses.