Casino Hold'em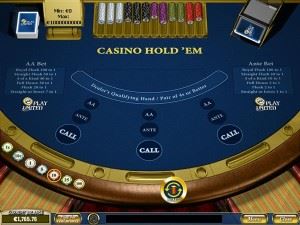 Casino Hold'em is the most popular form of the so known "Casino Poker". It's a game that is quite similar to another well known form – Caribbean Poker. However, this one is based on the "Holdem" game where players get only 2 hole cards, compared to Caribbean that is a stud based game, with players getting five cards dealt.
When talking about availability, casino hold'em is offered at all major gambling sites from leading software providers like MicroGaming, Net Entertainment and Real Time Gaming for those punters that are based in the United States.
This poker game is also incredibly easy to learn & play. The only real knowledge you'll need is related to poker hand rankings, that are the same as in the more common "club poker". Anyhow, lets jump right into the gameplay and the exact way this game is played online.
How To Play & GamePlay
There are two kinds of wagers that are placed in Casino Hold'em. The first of these is the so called "Ante" bet, which is required if you want to participate in the game. Once placed, you can hit the deal button and two hole cards will be dealt to you, the dealer as well as 3 cards will be dealt, known as the "Flop".
Now is when you have to make an important decision that will have an outcome for the whole hand:
Fold – muck your hand and move on to the next one. You'll forfeit the ante bet by doing this.
Call – double your ante bet and move on to the showdown – compare your hand with the dealers. (Turn and River will be dealt once you place the call bet).
Now the hands are compared according to the Poker Hand Strength Chart and the one holding a stronger hand wins. Payouts in Casino Hold'em aren't just 1:1 (even money), but actually depend on the strength of the hand you hold and whether dealer has qualified.
In order to hold a qualified hand or to qualify, the dealer must have a hand equal or better than a pair of 4s.
Play Casino Hold'em At These Casinos
You Get Exclusive 50 FREE SPINS Here

 100% up to $1000

T&C Apply 18+

Welcome Package

150% up to $1000 + 10 Free Spins

T&C Apply 18+
Payouts
Ante bets are paid by applying the payout odds regardless of whether dealer holds a qualifying hand or not, but this is not the case for the "call" bet. Here are the payouts for "Ante" winnings:
Royal Flush – 100 to 1
Straight Flush – 20 to 1
Four of a Kind – 10 to 1
Full House – 3 to 1
Flush – 2 to 1
Straight or Less – 1 to 1
Call bets are paid according to these same odds, but dealers hand has to qualify for it to be paid at all. If it does not qualify, you will only be paid on your "Ante" and "call bet" will be considered as pushed.
AA Bonus Bet
You also likely noticed the little circle with "AA Bonus" on it. Well, this is a sidebet that pretty much predicts that you'll hold a hand that will be at least a pair of Aces. The stronger, the better of course. Payouts for this bonus bet will also depend on the strength of your hand and are the following:
Royal Flush – 100 to 1
Straight Flush – 50 to 1
Four of a Kind – 40 to 1
Full House – 30 to 1
Flush – 20 to 1
Pair of Aces to Straight – 7 to 1
House Edge
Casino Hold'em features a really low house edge and given that you play it optimally (call with the top 82% of hands and fold the rest), the house edge in this game will be approximately 2.16%. This is quite small compared to other games like Roulette or Caribbean Poker.
Best Online Casinos To Play Casino Hold'em
Casino
Bonus
US
Review
Visit
EXCLUSIVE BONUS 50 FREE SPINS!

T&C Apply 18+

Review
Visit
Bonus - 100% up to $/€ 1600

T&C Apply 18+

Review
Visit
Bonus - 100% up to $1200

T&C Apply 18+

Review
Visit