BlackJack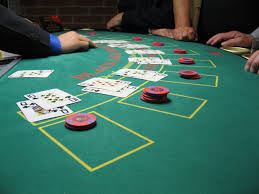 BlackJack, also known as twenty-one (21), is a card game that dates back in centuries and also one of the few games that has been exploited by professional players and likely still is. That's true, BlackJack was a beatable game for a long time and involved several groups of highly skilled players winning millions of dollars in the process. There's actually a movie themed after this game (known as "21") where a team of MIT students visit vegas to make a killings. Funnilly enough, it's based on real life events.
So back to the actual game, BlackJack is a card game and also a battle between two sides – dealer (casino) and player or multiple players. The main goal of the game is to form a hand combination that is as close to 21 as possible, without exceeding this score. While it might seem like a pretty complicated game in the beginning, once you get used to it, it's hard not to love it. The thrill and monetary swings are hardly matched by any game out there.
Card Values
The first thing that you have to be aware of and kind of learn is the value of cards. BlackJack is usually dealt by using between 1 to 8 decks of 52 cards. I would consider the hand values to be somewhat standard and if you are a card game savvy person, you'll likely think the same way.
Numbered cards are worth their face value – deuces through tens that is. Deuce is worth 2 points, an eight is worth 8 points and so on.
Face Cards are worth ten points – Jacks, Queens, Kings are all 10s in the game.
Aces are worth one or eleven points – you can pick between which value is more appealing to you.
Betting Round
Before any cards are dealt, you will have to place a wager on the circled betting boxes. Some variations might also offer a chance to place bonus bets, but lets stick with the basics for now. Note that casino have table limits, but online casino sites are usually flexible and will allow you to bet as little as $0.50 per hand and as much as $10,000 on a single betting box.
If you are playing in an online environment, place a wager by simply choosing the chip denomination and clicking on the betting box to bet. Then proceed to click the deal button.
 Play Online Blackjack At These Casinos
You Get Exclusive 50 FREE SPINS Here

 100% up to $1000

T&C Apply 18+

Welcome Package

150% up to $1000 + 10 Free Spins

T&C Apply 18+
Action Round
Once you've placed your wager , the dealing of cards will start and you'll get two cards dealt on a one-by-one basis for every betting box you are playing. Dealer will also place a card for himself (in some types of BlackJack the dealer will put two cards to himself right away, with one being face down).
Now is when the most important part of the game starts – decision making. Remember that the main goal of BlackJack is to reach a higher hand value than the dealer without exceeding 21. Take dealers card into account at all times when trying to determine whether you should risk or not. This is quite obvious, but I know that a lot of my friends who have started to play the game forget about this. If the dealer goes bust – you win regardless of what point score you have.
Here are the options that you will be presented most of the time, when playing blackjack online:
Hit – take a card
Stand – do not take a card and move action to the next betting box counter clockwise (if there are any actively played ones).
Surrender – get half of your wager back and let the hand go. Note that some types might not allow you to do this.
Double – double the size of your wager and hit ONE card.
Split – split the two cards you are dealt and play each as a separate hand. Only can be done when the two cards are of the same rank.
Dealers Drawing Rules
After all hands have been played out by the players, dealer moves on to drawing cards to his own hand. He does this by following a simple rule – until he has at least 17 or he busts (goes over 21). Some types of the game might require dealer to hit soft 17 (an ace and a six), but for the most part he always stands on 17.
Once he fulfills this simple rule, game is in the payout round and even money payouts are awarded to all payouts who hold hands with higher hand value than the dealer. Otherwise any bets are lost with an exception to times, when a "push" occurrs.
Push is a term describing an event where player and dealer both have equal point scores for their hands. In this case the bet is neither lost, neither won – it remains on the betting box.
Natural Hand "aka" BlackJack
This is the beauty of the game – getting a natural hand dealt, referred to as "BlackJack" which is also why the game is known as that. Natural hand consists of any ace and a face card (T, J, Q, K) and beats all other hands while pushing to other natural hands (in case dealer also hits BlackJack).
You'll also earn an increased payout at 3 to 2 odds, whenever you hit a natural hand. The only exception to this is when you split two aces and hit a BlackJack, which justs counts as a normal 21.
Variations
As with all games, there are countless variations of BlackJack out in the market that are developed by industry leading software companies. Eventually I will cover them all, but for now, here's what we have available.
Perfect Pairs
Triple Sevens
Single Deck
Live Dealer
Switch
Strategy
This is one of the rare games where I will suggest any kind of strategy. After all, people gamble these games to have fun, not to earn money. Having that said, there's no reason why you shouldn't try to play the most optimal way possible and this is exactly what I'm about to show you below – a chart showing optimal strategy for BlackJack. If you follow this chart, you will minimise the house edge to a tiny 0.5%
Practice & Play Free Online Blackjack Game Here:
 Other Casinos To Play BlackJack
Casino
Bonus
US
Review
Visit
EXCLUSIVE BONUS 50 FREE SPINS!

T&C Apply 18+

Review
Visit
Bonus - 100% up to $/€ 1600

T&C Apply 18+

Review
Visit
Bonus - 100% up to $1200

T&C Apply 18+

Review
Visit